If you have been using Young Living essential oils and products for you and your family, you already know their many benefits. Did you know that they also make pet products that you'll love? When properly utilized, your pets can experience several benefits from essential oils as well and Young Living makes it easy by developing formulas and products that take the guesswork out. Here are the Animal Scents pet products you can choose from: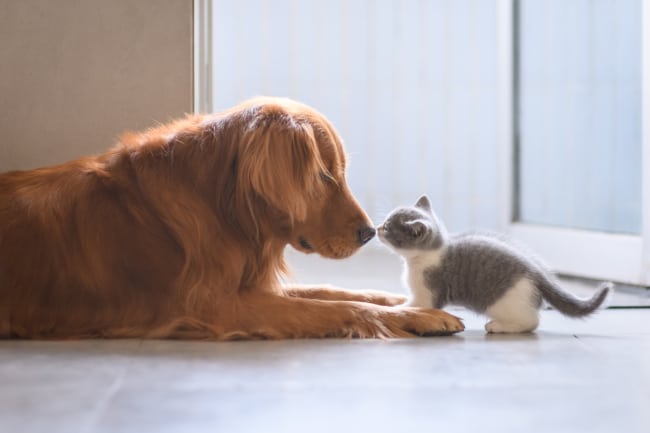 Ointment – Your pets can get a "boo-boo" too so be prepared with this protective, smooth ointment with Myrrh and Tea Tree (Melaleuca Alternifolia).
Shampoo – Just as you have removed harmful ingredients from your personal care products, you can do the same for your pet. This shampoo is formulated with five pure essential oils and other natural ingredients.
Cat Treats – Looking for treats that your cat will love without the artificial ingredients and fillers found in nearly all cat treats on the market? These are made with naturally-derived ingredients with no wheat, soy, corn, fillers, artificial colors, preservatives or artificial flavors.
Dental Chews – You can support oral health for your beloved pet without the artificial colors and flavors found in other pet products. Just a couple chews a week (half of one for smaller pets) makes a great snack while gently removing buildup.
Essential Oil Blends – There are six different Animal Scents blends to choose from with names that clue you in as to what they are used for – Infect Away, Mendwell, Puriclean, ParaGize, RepelAroma, and T-Away. It is best to use the first three together as a 3-part system. T-Away is a smoothing scent that helps your pet feel joyful. Each one comes in a 15ml bottle.
The purchase of many of these pet products helps support Vital Ground, a nonprofit organization working to protect grizzly bear habitat and other wildlife. Here at Earth's Natural Healings, I'm passionate about offering you products that can make a difference in the overall health and wellness of your family. Being able to include your pets with these pet products is just as important to me. If you have any questions about these products, how to use them, and products for your family, don't hesitate to contact me.